Did you know that George W. Bush was a war hero? I know that this development comes as a shock and surprise to many progressives who are familiar with Bush'™s military career, but he received a Vietnam-era Purple Heart award a few weeks ago in the Oval Office. Seriously.

28%-er Bill Thomas [...]
/wp/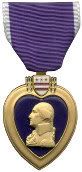 Did you know that George W. Bush was a war hero? I know that this development comes as a shock and surprise to many progressives who are familiar with Bush'™s military career, but he received a Vietnam-era Purple Heart award a few weeks ago in the Oval Office. Seriously.
28%-er Bill Thomas of Copperas Cove, Texas, decided recently to give George Bush one of the three purple heart awards that Thomas had been awarded in Vietnam. Bush was so blown over by this gesture that he invited Thomas and his wife, Georgia, to the Oval Office for the presentation. The medal was presented to Bush, and Thomas said:
'¦he and his wife came up with the unprecedented idea to present the president with the Purple Heart over breakfast one morning a few months ago as they discussed the verbal attacks, both foreign and domestic, the commander in chielf has withstood during his time in office.

'œWe feel like emotional wounds and scars are as hard to carry as physical wounds.'
Soak that all in for a moment.
.
.
.
.
.
If you factor in Laura Bush'™s lament last week that 'œ'¦no one suffers more than the president and I do'¦' because of the conflict in Iraq '¦'¦.. '¦.. '¦'¦'¦ oh, fark it. I can'™t even snark this up anymore. Sometimes, true life irony is its own sarcasm. I guess Laura forgot that George isn'™t losing any sleep over it.
It'™s hard to believe that someone on Bush'™s staff didn'™t tell him that this might not be a good idea. It'™s hard not to be at a total loss for words. Don'™t forget – this is what Republicans think of Purple Heart recipients:
Sunday, April 29th, 2007 by Richard Blair |