Mr. Bush has stated, flatly, that there are no magic wands, this in his latest press conference. But he'™s trying to have it both ways, claiming if there were magic wands, he'™d use them. Meanwhile, he'™s not denied the existence of the Tooth Fairy, the Easter Bunny, or of Voodoo Witch Doctors with specialities in Economics.
Commentary By: Steven Reynolds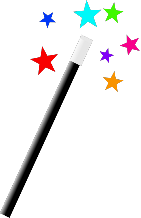 Yes, there are millions of girls around the country who are going to go into mourning if they hear Mr. Bush'™s words. He said there is no 'œmagic wand.' Indeed, one can imagine all sorts of Harry Potter fans feelsing let down, both girls and boys. How cruel! And this is no minor repudiations of magic wands on Mr. Bush'™s part. He mentions the (ugly) news, at least for children everywhere, THREE TIMES in his news conference yesterday. Here'™s a bit of Mr. Bush'™s statement from that press conference yesterday, via the Philadelphia Inquirer:
And so I firmly believe that, you know, if there was a magic wand to wave, I'™d be waving it, of course. It'™s – you know, I strongly believe it'™s in our interest that we reduce gas prices – gasoline price.

. . .

No, I think that if there was a magic wand to say, OK, drop price, I'™d do that.

And so part of this is to set the psychology right that says to the world, We'™re not going to become more beholden on your oil, we'™re going to open up and be aggressive and have an aggressive energy policy.

Secondly, we'™re going to be sending a signal we'™re going to be building new refineries.

But there is no magic wand to wave right now.
Perhaps the consistent aspect is that if there were a magic wand, some kind of secret weapon against this Bush-engineered inflationary surge in gas and food prices, then he would use it. That should surprise us not one little bit. This is, after all, the President who thinks voodoo economics is the only kind of economics, who insists, despite the surge he has engineered in economic deficits, that the only solution is to cut taxes to the rich.
Wednesday, April 30th, 2008 by Richard Blair |