Righteous indignation sometimes inspires us to actions that we wouldn't normally consider doing – like traveling to New York City to stage a lone protest in front of the headquarters building of the world's largest insurance company – AIG.
Commentary By: Richard Blair
I spent my St. Patrick's day in New York City, tilting at a very large windmill – American International Group.
After a weekend of stewing about the outrageous bonus payments that a group of top AIG execs received, I decided on Monday that I wasn't going to simply sit behind a keyboard and vent my outrage any longer. So, on Tuesday morning, I hopped on one of the Chinatown buses that runs between Philadelphia and NYC (what a great deal – $20 round trip, and I didn't have to drive!), and headed for AIG's corporate headquarters at 70 Pine St.
The walk from NYC's Chinatown to the financial district isn't particularly far – probably less than a mile – but there's so much in the city for the senses to take in that it seems longer. As I made my way down Broadway from Worth St., I decided to take a short detour down Fulton, and walked over to the World Trade Center area. I've been to NYC many times since 9/11, but never visited the site to pay my respects.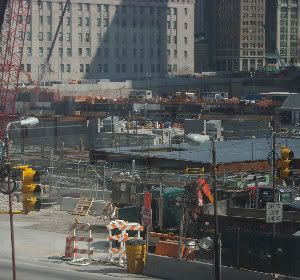 What started as a quick side trip up the block to view a recent gash on American history became almost a quest. The area is totally fenced and blocked, and there just isn't a good vantage point to scope out the construction / reconstruction activities from street level. So I headed down Liberty St. toward the West Side Highway, through throngs of construction workers at lunch, headed up the stairs toward the 1 World Financial Center building, and was finally able to get a fairly decent view from the skyway to 1 WFC.
It struck me how so little has really been accomplished at the site in the 7-1/2 years since the buildings came down. Certainly, there have been many logistical and political issues involved in the reconstruction, but when you actually see the hole for the first time, it's surprising that there has been so little local or national will to rebuild the area.
As I left 1 WFC, making my way toward Broadway I walked past the many small stores and eateries at street level. I tried to visualize what it must have been like to be a cashier in one of those shops when the towers came down, and I wondered how long this whole section of lower Manhattan had been basically uninhabitable before the bodegas and restaurants could reopen. My mind wouldn't wrap around the imagery, so I let it go, but I clearly need to revisit that entire corner of my head sometime in the future.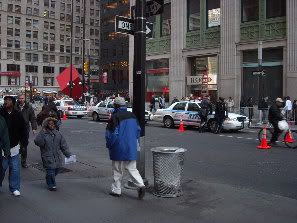 Heading back down Broadway, I noticed a police car – no, two – no, three or four – with their light bars blinking near the corner of Cedar. I knew that I was getting close to Pine St., and there were news reports that security had been ramped up at all AIG facilities due to threatening emails and phone calls. Was the NYPD presence part of the security response?
As I turned down Pine St., it was clear that the cops weren't on the street for AIG, because there didn't appear to be any security personnel in view as I walked toward the headquarters building, two blocks distant. In fact, except for a small placard on the front of the building, and the address being stenciled on the window of the lobby coffee shop, I would have missed the building entirely. That's the way the canyons of the financial district unfold.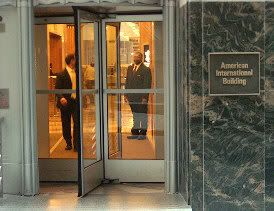 I stopped in front of 70 Pine St. to take a picture. It's a huge building, but has a deceptively small entrance for a 66 story skyscraper. From inside the building lobby, through a single revolving doorway, a security guy watched me warily as I snapped the photos, but I continued moving. I circled the block, and stopped in a Duane Reade drugstore to pick up a piece of poster board. Outside of the store, I pulled a Sharpie pen out of my backpack, created my sign, folded it, and put it in my pack. The logistics of my protest were now in place…
Thursday, March 19th, 2009 by Richard Blair |