Is it appropriate to give a new baby a stuffed monkey if that baby is African American, given the historic derogatory connections between African Americans and Monkeys? Well, my boy is teasing his monkey. And I'm unsure of the whole political correctness thing.
Commentary By: Steven Reynolds
Oh, it was amazing when my wife adopted Jack. He is indeed a bundle of joy, and easily the cutest baby in all of puppetland. But it was odd the gifts people got Jack. You see, my wife and I are committed liberals, at least as concerns social issues. And we were a bit stunned that Jack got not one, not two, but three stuffed monkeys as gifts. Hey, our liberal sensibilities told us that monkeys are often used as derogatory symbols for African Americans, and Jack is very much African American. So it set us thinking, to say the least.
Still, the stuffed monkeys were very cute, as you can see below. One of them has a beret on his head, thus making him French, and he's a stylin' sort of French monkey. We call him the gay french monkey. Jack is beginning, at ten weeks of age, to cuddle up to this gay french monkey, though from the picture here he seems to be teasing that monkey unmercifully.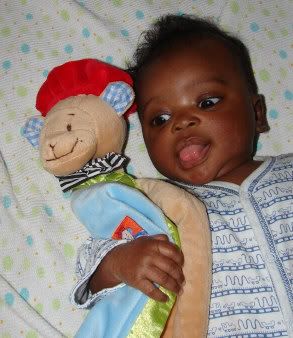 I suppose I think that my liberal sensibilities may be on overdrive, wondering as I do whether we should bring stuffed monkeys into Jack's life. Still, they're just stuffed animals, right, and Curious George is a bit of a childhood hero, isn't he? Again, I am conflicted, and I could use all the advice you can muster.
Oh, and I know he is cute as can be, though I don't mind reading it in comments.
Tuesday, March 17th, 2009 by Steven Reynolds |